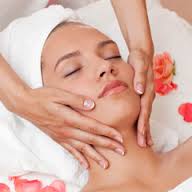 At Salon Reyna we use Pevonia International products to perform the facials listed below.  We love that they  believe that protecting and preserving the planet is a global responsibility. The Pevonia Botanica brand maintains a harmonious balance with nature and its precious resources by offering natural, cruelty-free formulations (no animal testing) within eco-packaging (fully recyclable and biodegradable).
Customized Facial (60mins) $85+ :  At Salon Reyna, we recognized that every skin is unique; therefore, we have created this facial to cater to our client who wants a treatment that is customized specifically to their skin type and condition.
Signature Facial (60mins) $70 : Indulge in this facial treatment for a calm, relaxing experience. Skin is cleansed, exfoliated, massaged, and bathed in a deeply hydrating masque.
Deep Cleansing Facial (60mins) $75 : This facial treatment is customized to purify and balance problematic skin. Eliminate blackheads and congestions for clearer and cleaner skin
Age Defying Marine Collagen Facial (60mins) $85 : Customized to treat and smooth aging skin. Loaded with age defyimg ingredients such as marine collagen and hyaluronic acid, this facial will leave your skin refreshed and rejuvenated.
Sensitive Skin Facial (60mins) $75 : This treatment is best for sensitive and reactive skin. Desensitize, heal, and protect your skin with this gentle yet effective facial.
Vitamin C Facial (60mins) $100 : Look your best for that special occasion with this luxurious treatment infused with vitamins. Your skin will thank you for that beautiful glow.
Express Facial (30mins) $50 : This facial is perfect for our busy clients who care for their skin but is short on time
Back facial (30mins) $50 : Cleanse those tough-to-reach spots, targeting a variety of skin care needs such as clogged pores, back acne, and dehydrated skin.