Frequently Asked Questions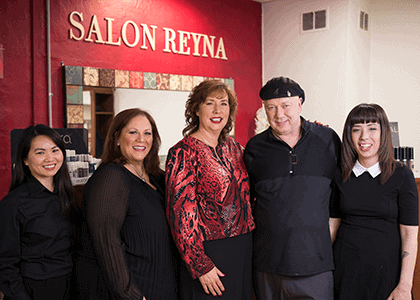 Booking
All appointments involving more than 1 hour of service time require a credit card on file.  Credit card information is stored in a secure site and is not accessible to any of our employees for your security.
Cancellation
We appreciate our guests giving us as much advanced notice as they can if they are not able to keep their appointment so we have the opportunity to fill that time with another guest.  Unfortunately, if we do not receive at least 24-hour notice we will bill the credit card on file 50% of the scheduled service.
Accepted Payment Methods
Salon Reyna accepts all major credit cards including American Express for all services and product purchases.  Tips are graciously accepted in cash or check.
Refund/Adjustments
If for you are not happy with any service or product please let us know as soon as possible (within a week of your visit) so that we can address your concerns and develop a reasonable plan to resolve the situation.
The designers at The Salon Reyna will also share trade secrets of how hair color and style can be utilized to help women look younger and more radiant.  With Beauty Revealed ™, its never been this simple to look so beautiful!

Through our consultation, we'll cover
Secret makeup techniques that will change the way others see you

The powerful effects of hairstyle on bone structure and face shape

The extraordinary impression color makes on each woman.