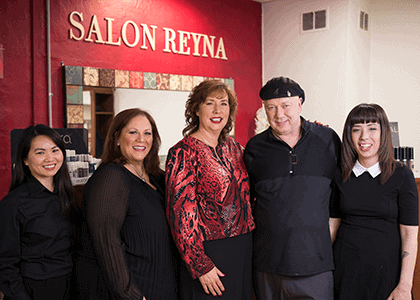 If you're like most women, you have spent hours in front of the mirror wondering how to showcase your best features and look more beautiful. At Salon Reyna we will help you discover the hairstyle, makeup and colors to help you not only look your best, but reveal every aspect of your true beauty. The Salon Reyna believes that every woman is beautiful and we all have veiled beauty that needs to be revealed.
Through their unique process Beauty Revealed ™,  The Salon Reyna has helped thousands of woman find the hairstyle that focuses on their best features while respecting their lifestyle, hair color that compliments their skin tone and eyes, and makeup that transcends age and weight. We design an atmosphere for women to relax and enjoy. 
The designers at The Salon Reyna will also share trade secrets of how hair color and style can be utilized to help women look younger and more radiant.  With Beauty Revealed ™, its never been this simple to look so beautiful!

Through our consultation, we'll cover
Secret makeup techniques that will change the way others see you

The powerful effects of hairstyle on bone structure and face shape

The extraordinary impression color makes on each woman.